DERMAL FILLER INJECTABLES
Today's natural, advanced dermal filler injectables provide a simple, safe, non-surgical option to correct lines, folds and wrinkles that appear as we age due to the loss of fat and collagen beneath the skins surface. Restore your youthful appearance with age-defying dermal fillers which are virtually painless and provide results with minimal recovery or downtime. We offer:
Hyaluronic Acid (HA), the primary active ingredient in most dermal fillers, is a naturally occurring substance that can be used cosmetically to correct moderate-to-severe wrinkles and folds in the skin. However, all dermal fillers are not created equal. Versa provides natural results
due to its advanced wet milling technology and proprietary formula. The particles are uniquely spherical and uniform, providing the perfect balance between smoothness and volume. The spherical particle shape is developed to be accepted by the body and breakdown slowly over time. In a recent study another popular (HA) dermal filler was shown to produce swelling 24% more often than Versa. The lower rate of swelling means many patients are able to get back to their lives almost immediately after the treatment. The pictures below show before, 2 hours after and 6 months following treatment.
For further information, visit the official website of REVANESSE VERSA.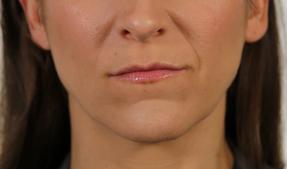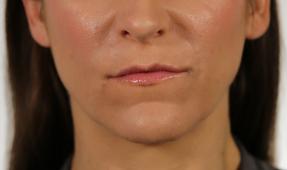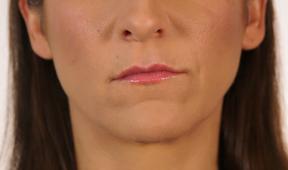 Specially designed to integrate into your skin and mold to your distinct facial contours. It softens lines and wrinkles around the nose and mouth for smooth and natural results that are uniquely you. BELOTERO has unique properties that allow it to adapt within the skin for soft and even correction. The versatility of the product makes it strong enough to handle deep treatment areas such as nasolabial folds (smile lines around the mouth), yet soft enough to treat more delicate areas such as vertical lip lines (thin lines that appear above the lip line). BELOTERO is made of a material called hyaluronic acid or HA, which naturally exists as a component of your skin. By binding to water, it fills in wrinkles and folds, allowing immediate and smooth correction. Below is a before and after photo of a BELOTERO patient.
For further information, visit the official website of BELOTERO BALANCE.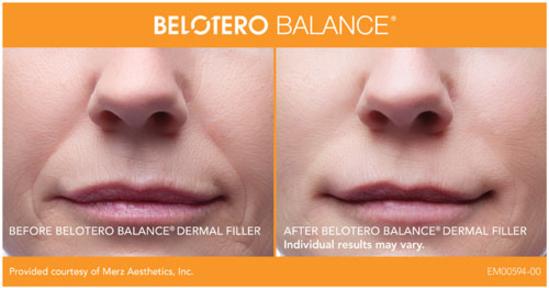 Restylane® Kysse is an FDA-approved hyaluronic acid (HA) lip filler designed to enhance lip volume and minimize the appearance of fine lines above the upper lip with a natural look and feel. Restylane Kysse is the first HA lip filler formulated with XpresHAn Technology™ (pronounced ex-'spre-shan'). XpresHAn Technology™, designed for excellent tissue integration that allows individuals to maintain their natural-looking expression. XpresHAn technology is a unique way of cross-linking hyaluronic acid, so it stretches and moves with facial expression but returns back to its original shape after movement. In clinical trials, Restylane Kysse proved it was able to enhance the appearance of lips with results lasting up to one year.
For further information, visit the official website of Restylane Kysse.
In youthful skin, there is an abundance of collagen, elastin and hyaluronic acid which give it volume, support and suppleness. As a part of the aging process, these natural support structures become less plentiful. The result is facial lines, wrinkles and skin laxity. The best solution for erasing lines and folds is to replace lost structure with immediate volume. RADIESSE Volumizing Filler works immediately so the results are instant. Once injected, RADIESSE Volumizing Filler adds the volume and lift needed to diminish the signs of aging. What makes RADIESSE truly unique is the ability of the product to act as a scaffold under the skin, providing structure and stimulating your own natural collagen to grow. The production of natural collagen continues for several months, which extends beyond the initial effect of RADIESSE Volumizing Filler. Best of all, the natural results are clinically proven to last a year or more in many patients.
​For further information, visit the official website of RADIESSE Volumizing Filler.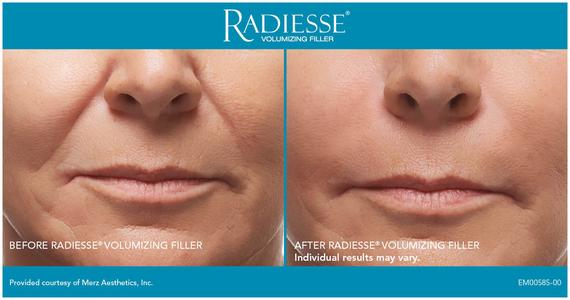 Hyperdilute Radiesse is simply Radiesse that has been diluted / thinned out, with a mixture of sterile saline solution and lidocaine.  This makes it an easily spreadable biostimulator capable of remodeling skin over a larger area. When this diluted mixture is injected into areas of collagen loss, it triggers the body to produce new collagen and elastin. The result is a skin rejuvenating treatment with pronounced and visible smoother, firmer, younger-looking skin. The benefits of this treatment are skin tightening and thickening, reducing the appearance of fine lines, wrinkles, and crepiness. Overall, skin tone, texture and elasticity are markedly improved.
Hyperdilute Radiesse can be used:
-Mid and lower face
-Neck lines and/or neck in patients with mild to moderate laxity
-Décolletage
-Arms and above knees to address the knee lines from lax skin with aging